November 18, 2011
Photo demonstrating the stability of the Pathfinder hull: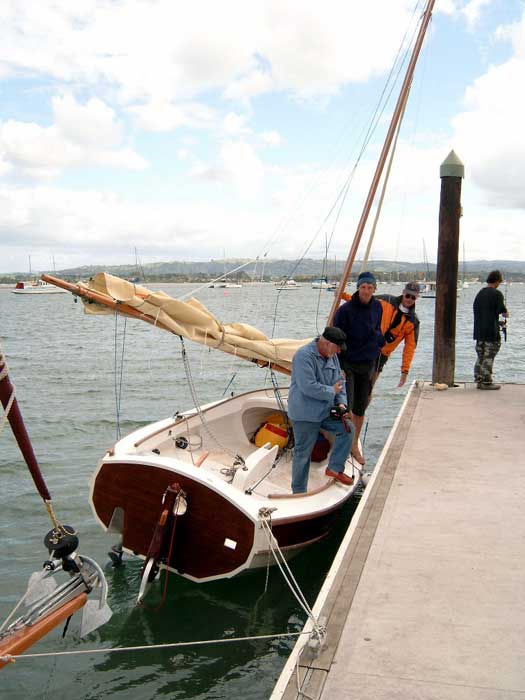 While I do not expect to have three grown men standing on
Gardens of Fenwick's
gunwale, it is nice to know the hull is this stable.
John Welsford's Pathfinder design is, to my eye, elegant, beautiful and purpose-designed for boat-camp-cruising.
Now, having said I think the design is great looking boat, there is one element of the design I would like to change. The lug yawl sail plan includes a jib, lug main and mizzen. This is a fine rig but to my eye the plan is too "busy." Here is the lug yawl sail plan:
What I want to do is rig Gardens of Fenwick as a balance lug yawl. My experience with the Goat Island Skiff's balance lug has been eye-opening for its simplicity and performance. Rigging GoF as a balance lug yawl would simplify several aspects of not only sailing but of building the boat. Without the jib, the bowsprit, roller furler, jib-sheet and stays are unnecessary. The balance lug yawl has fewer sail control lines to adjust while sailing. It seems to me the balance lug yawl is a good sail-plan for the Pathfinder.
I had the opportunity to discuss this potential change with John Welsford at the Sail Oklahoma messabout in October 2011. He told me not only is it possible, he has drawn the balance lug yawl sailplan and he will send the details to me (the mast position is slightly different for each sail-plan and needs to be addressed fairly early in the building sequence).